Worminghall was described in 1806 in "Magna Britannia" as follows: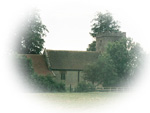 WORMENHALL, in the hundred of ashendon and deanery of Waddesdon, lies on the borders of Oxfordshire, about five miles north-west of Thame. It had formerly a market on Thursdays, granted in 1304, together with a fair on the festival of St. Peter and St. Paul, to John de Rivers, who it is probable was at that time lord of the manor: at a later period it was in the Ingletons, from whom it passed by a female heir to the Tyrells. In 1720 the manor of Wormenhall was bought by Edward Rudge esq. of the Tipping family, who had succeeded the Tyrrells in the year 1560: it is now the property of Edward Horne esq. of the Leasowes, having been purchased of the Rudges by his father, Samuel Horne esq. about the year 1772.
Sir Clement Cottrell Dormer has for several years given a deputation for the free warren of Wormenhall
In the parish church are some memorials of the family of King; John King, Bishop of London, and Henry King, Bishop of Chichester, a learned writer and a poet, were both of this family, and natives of Wormenhall. John King esq. son of the bishop of Chichester, founded an alms-house at this place in 1675, for four poor women and six poor single men, who receive eight shillings and four-pence each monthly, from the donation of the founder.
Thumley, a hamlet of this parish, is in Oxfordshire.